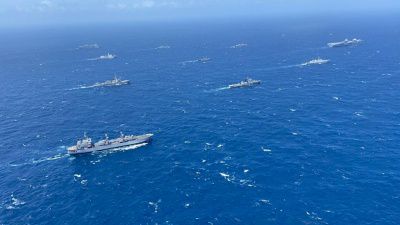 Indian, UK navies hold 2-day maritime drill in Bay of Bengal
22nd July 2021 08:43 pm
Lokmat

New Delhi, July 22 The Indian Navy and the Royal Navy of United Kingdom carried out a two-day maritime drill in the Bay of Bengal starting Wednesday to augment interoperability and adaptability in the ever-changing security scenarios.
It was a two-day bilateral Passage Exercise (PASSEX) with the Royal Navy Carrier Strike Group (CSG)-21 led by HMS Queen Elizabeth in the Bay of Bengal, the Indian Navy said.
The bilateral maritime exercise was designed to hone the ability of the two navies to operate together in the maritime domain.
The maiden exercise between the Indian Navy and the Royal Navy's latest aircraft carrier, HMS Queen Elizabeth, included the participation of CSG-21 comprising Type 23 Frigates and an Astute-class submarine in addition to the other surface combatants.