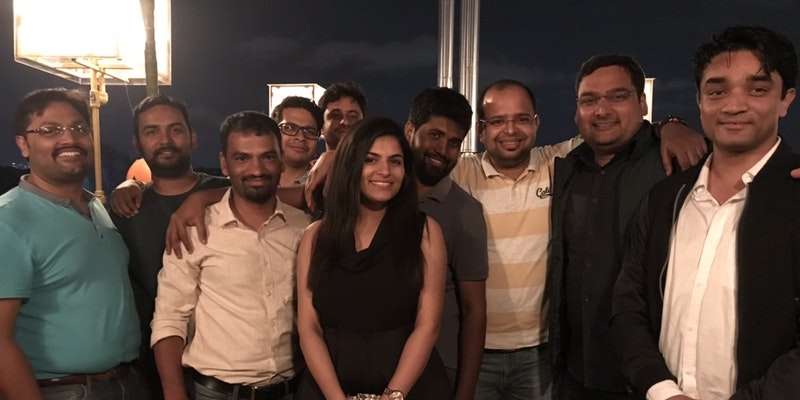 Backed by Flipkart founders Sachin and Binny Bansal, Inkers aims to deliver large scale AI solutions to enterprises
23rd September 2019 06:06 am
Your Story

The rising need in the area of surveillance is driving many companies across the globe to come up with innovative solutions. Government organisations and tech companies in India are also working in the facial recognition domain to build top-notch products and services.
To build facial recognition solutions for enterprises, retail, defence, and security organisations, IIT Kharagpur alumni Rohan Shravan and Manish Giri founded Inkers in 2012.
The Bengaluru startup develops and designs deep large-scale Artificial Intelligence (AI) and Machine Learning (ML) vision solutions.
Team Inkers
Hyderabad airport launches face recognition system for entry
Inkers works on Intelligent Video Analytics (IVA) applications such as face recognition, object detection, tracking, and visual workflow automation.
Some of its key clients include Landmark Stores, Mistral, Select Citywalk Mall, RG Kar Medical College, Ramaiah Memorial Hospital, and the Britannia Group. So far, the startup has served over 20 B2B customers.
Starting up
Rohan started a company called Notion Ink Design Labs in 2009. His college friend Manish joined Notion Ink as the COO. With a Masters in Integrated Mathematics and Computer Science from IIT Kharagpur, Manish spent six years in Schlumberger. He specialises in business, operations and strategic initiatives.
At Notion Ink, they created intelligent devices in the form of tablets to automate workflow. But the software or hardware ecosystem for handheld devices didn't scale. To solve this, Manish and Rohan founded Inkers to directly focus on AI. However, Notion Ink still focuses on the B2B segment of it.
Later, the duo was joined by Srikanth Kandada as of one of the co-founders. Srikanth comes with 20 years of experience in sales and marketing, and has worked with companies including HP, Xerox, and Microsoft. Before joining Inkers, he was the Country Head of Local OEMs at Microsoft.
Software as a service
The startup's core product, called InkVision, is an AI Operating System that provides visual metadata for every camera frame, such as recognised faces or objects. Inkers went live with its product last October.
The service offers two solutions - boxed and turnkey.
On the other hand, it uses InkVision to provide turnkey solutions to large enterprises, reducing their deployment time. InkVision, when hosted on a single edge device, provides face and object recognition for Human Resource Management, security, and surveillance. For large enterprises, Inkers provides workflow automation solution, and it is billed per seat or per camera depending on end use.