We are transforming medical education system: PM
26th February 2021 12:10 pm
Shillong Times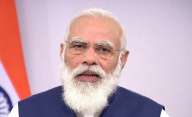 New Delhi : Prime Minister Narendra Modi on Friday said that the Union government is transforming the entire medical education system in the country and the 'learnings from the Covid-19 pandemic will help in fighting other diseases as well'.
Addressing the 33rd Convocation of The Tamil Nadu Dr. M.G.R. Medical University, Modi said that during the last six years, MBBS seats in the country have increased by more than 30,000, a rise of more than 50 per cent from 2014.
"The number of Post Graduate medical seats has been increased by 24,000 which is a rise of around 80 per cent from 2014," Modi said.