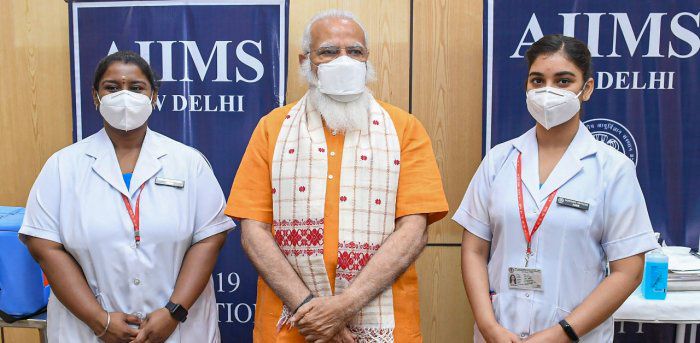 Narendra modi gets the second Covaxin jab: Meet the nurses who administered it
08th April 2021 12:39 pm
Deccan Herald

DH Web Desk,
Narendra Modi was administered the second dose of the coronavirus vaccine on Thursday at AIIMS, Delhi.
The two nurses who oversaw the process were Nisha Sharma who hails from Punjab and P Niveda who is from Puducherry. The latter also inoculated the Prime Minister with the first dose of Bharat Biotech's Covaxin on March 1. On Thursday she assisted Sharma who administered the second vaccine dose to Modi.
India records 1.26 lakh Covid-19 cases, 685 deaths as India records highest single-day rise
"I have given the second dose of Covaxin to our Prime Minister Narendra Modi today.