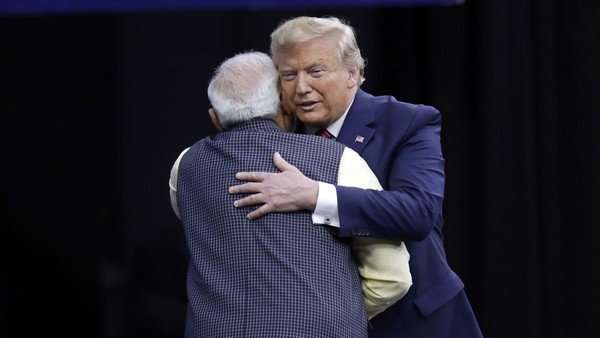 'Howdy Modi' in PICS: Modi-Trump bonhomie
23rd September 2019 03:32 am
Oneindia

Houston, Sep 22: At the Howdy Modi event in Houston, Prime Minister Modi heaped praise on President Donald Trump and here are some photos that show excellent camaraderie between the two leaders. Modi said it was honour and privilege for him to welcome Trump in this magnificent stadium and magnificent gathering.
For the most part, Modi and Trump demonstrated much bonhomie and camaraderie at the joint appearance. They hugged, clasped hands, clapped each other on the back and had only the most eloquent praise for each other, the ties between their nations and governments and spoke of the "historic" importance of their joint appearance.
On display was the growing closeness between the two leaders, the easy camaraderie they have come to develop and share over their meetings and interaction, bilaterally and at multilateral meetings.
Modi-Trump camaraderie @ 'Howdy Modi' in Pics:
President Donald Trump arrives to speak at the "Howdy Modi: Shared Dreams, Bright Futures" event with Prime Minister Narendra Modi at NRG Stadium on Sunday.
us
Modi-Trump at NRG Stadium in Houston
Modi called Trump a 'special person' and 'friend of India'.
washington
Prime Minister Modi heaped praise on President Trump
Modi heaped praise on President Donald Trump and said "Ab ki baar Trump Sarkar".
PM's America trip
Modi-Trump camaraderie
Modi said Trump was standing against terrorism with "full strength" and called on the audience to give standing ovations to the US president.