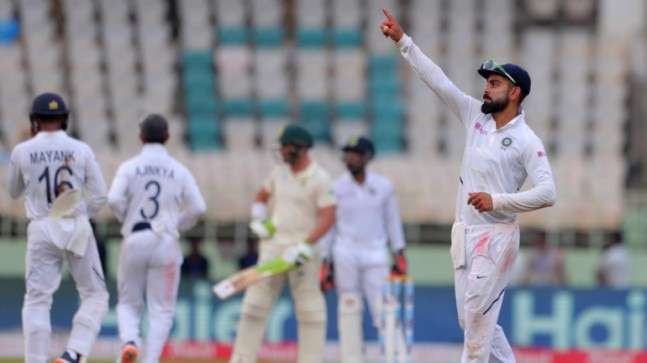 Harbhajan: People will have their opinions but Virat is the best captain
09th October 2019 07:41 pm
India Today

Virat Kohli's captaincy has earned him brickbats and accolades in equal measure. Many will present his record in the Indian Premier League (IPL), where he has endured more failures than success, to substantiate his below par captaincy but in India jersey, his captaincy record is unmatched.
Virat Kohli is already the most successful Indian captain with 29 wins in 49 Tests. On Thursday when Virat will walk onto the field to lead India in the Pune Test it will be his 50th Test as Indian captain. He will go past Sourav Ganguly (49) and MS Dhoni (60) will remain as the only player to have led India in more Tests than him.
Despite these strong numbers, Virat has had to face some serious questions over his selections calls and some on-field decisions. But for Harbhajan Singh, Virat is the best captain in the world at the moment.
"If you see Virat's (captaincy) record, he has won more number of matches than any other (Indian) captain. There are only a few other names (international captains) who have won more Tests than him. So he must be doing something better than others," Harbhajan told India Today.
"Whether people like it or not that's their opinion. In my opinion, he is doing a great job for India as a leader, showing how to win games not just in India but overseas too. The way he handled pressure in Australia, was remarkable. There were lot of expectations on him not just as a captain but also as a batsman, and he came out like a champion.
"I hope he achieves the milestones, he has set for himself. He wants to be the best captain in the world and in my opinion he is the best," the veteran off-spinner proclaimed.
Harbhajan, who has 417 wickets to his name in 103 Tests, was also effusive in his praise for Rohit Sharma as a Test opener. Although he stopped short of calling Rohit the next Virender Sehwag of Indian cricket in Tests, he believes the Mumbai marauder can cause a similar impact that Sehwag had in his heydays.
"I don't want to compare Rohit with anyone. But yes, Virender Sehwag had the biggest impact on the opposition. If you didn't get Sehwag out, you would find him batting on 250 or 270 by the end of day's play.