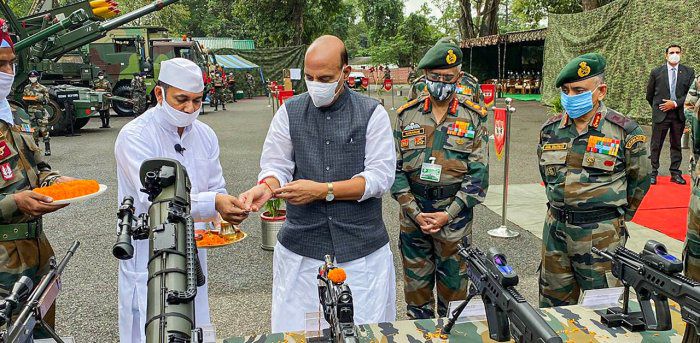 India wants to end border tension with China but will not cede an inch of land: Rajnath Singh
25th October 2020 01:51 pm
Deccan Herald

PTI,
Defence Minister Rajnath Singh on Sunday said India wants an end to the border tension with China in eastern Ladakh, but at the same time asserted that Indian soldiers will never allow even an inch of the country to be taken away by anyone.
The Defence Minister made the remarks after performing "Shastra Puja" -- the customary worship of weapons -- at the Sukna-based headquarters of the Indian Army's 33 Corps in Darjeeling district of West Bengal on the occasion of Dussehra.
The Defence Minister was scheduled to perform the puja at Sherathang, a high-altitude border area near the Line of Actual Control (LAC) with China in Sikkim, but could not go there due to inclement weather, officials said.