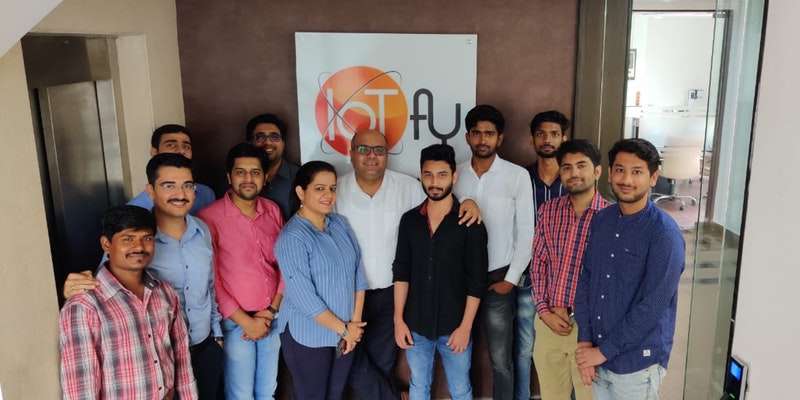 How these entrepreneurs turned their weekend project into a million-dollar startup IoTfy
23rd September 2019 05:22 am
Your Story

There is a rapid upsurge in the demand for emerging technologies such as Internet of Things (IoT) and Cloud across all sectors.
In consumer electronics, companies like Samsung, LG, Panasonic, Sony, Xiaomi, Havells, Hindware, Bajaj and others are making significant inroads by using IoT effectively.
Amidst all these developments, Delhi-based startup IoTfy hopes to become a big player in the next four years. IoTfy is not competing with the biggies, but providing them with solutions so that they can ride the IoT wave in India.
IoT refers to a network of devices and sensors connected through the internet.
Started by serial entrepreneurs Arpit Chhabra, Sushant Taneja, Shashank Saxena and Shivam Dikshit in 2017, IoTfy is a chip-to-cloud company that helps consumer durable brands add IoT capability to their device categories with its chip-to-cloud IoT products.
Explaining further, Arpit says that four components go in IoTfy's chip-to-cloud solution. "These include the Nucleo WiFi module, which communicates with the cooler control card and provides data connectivity, the iACE IoT Platform, and pre-configured device schemas topped with IoTfy's analytics as per the OEM or brand's demand."
IoTfy's team
[Startup Bharat] Raipur-based Minocular is breaking new ground using drones, IoT to map deposit...
IoTfy also offers a white-labelled mobile app for end consumers to control appliance functions such as 'on' and 'off' using the app, and even Voice Assistant Integration with voice assistants like Amazon Echo and Google Home, which enables consumers to control the appliances with their voice.
The co-founders claim that IoTfy is the only company in India that provides chip-to-cloud solutions and caters to the entire life cycle of IoT products.
A team of serial entrepreneurs
Arpit (35) is a serial entrepreneur having built four startups and successfully exiting two of them. His last exit was an IoT product startup called Ad-Box.
Sushant (32) who is the Vice President, Technology, IoTfy, has hands-on experience of over a decade in IT technologies, especially with working at scale. He earlier stint before he joined as Co-founder of IoTfy was at Snapdeal. Sushant is also a serial entrepreneur and is the co-founder of Ekayan Software Labs, and was the founding member of StoreMonk.
Shashank Saxena (30), Vice President, Embedded Systems, is in charge of all things hardware. Shashank has 10 years of experience in designing and developing hardware products. Prior to IoTfy, Shashank ran an IoT consulting firm where he catered to more than 200 customers. He was awarded two monetary grants of over 20K USD from MSME, Govt. of India for two innovative IoT products in 2010 and 2011.
Shivam Dikshit (29), Vice President, Marketing, previously headed business development and marketing at an IoT consulting firm and was able to establish a diverse customer base ranging from startups to Fortune 500 companies. He is a community builder and was a founding member of PeerHack, Bootstrap Weekend & Hack4India.
From a weekend project to a profitable company
"IoTfy was started as a weekend project in December 2014, when we used to meet and conduct development hackathons. The idea at that point was to build a Wordpress-like platform for IoT that can be used across sectors for various IoT use cases," says Arpit.