Amit Shah pulls a Rahul Gandhi, says 'million ton' instead of 'trillion'
14th February 2020 02:08 pm
The Free Press Journal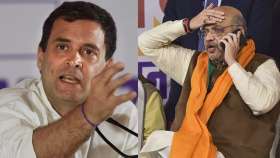 The Indian government is apparently prepared to take the economy to '5 million ton'. And with the economy slowing down in recent times, that might be a rather heavy burden to bear.
Union Home Minister Amit Shah however is not daunted.
Speaking at the Times Now Summit he said that the country's economy had been brought to $2 trillion over the last 70 years.