India one of world's top markets for solar energy: ISA
25th February 2021 01:38 am
Shillong Times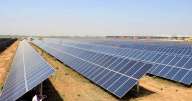 New Delhi, Feb 24 : India is now one of the world's top markets for solar energy, a new report by the International Solar Alliance (ISA) said on Wednesday.
The report, 'Ease of Doing Solar 2020', identified countries that were high solar energy performers in 2020.
The report is a continuation of the pilot study conducted for four member countries in 2019 which has now been expanded to cover 80 countries with a refined evaluation framework.