'Is Shashtra Pujan not performed on Vijayadashami?': Amit Shah on Congress' criticism of Rajnath Singh
09th October 2019 06:36 pm
The Free Press Journal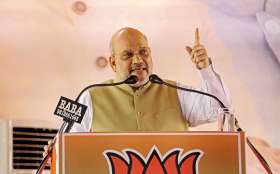 Union Home Minister Amit Shah
Kaithal: Union Home Minister Amit Shah on Wednesday said the Congress should ponder over what "needs to be criticised and what not".
Addressing his first election rally here for the October 21 election for the 90-member Haryana Assembly, Shah ridiculed the criticism of the Congress over 'Shashtra Pujan' or worship of weapons of the first Rafale fighter jet by Defence Minister Rajnath Singh in France a day earlier.
"Is Shashtra Pujan not performed on Vijayadashami? They should ponder over what needs to be criticised and what not."
He said that when the Congress "comes to Kaithal, you should ask them why they were against removal of Article of 370? Why they boycotted Triple Talaq and why they were against UAPA (Unlawful Activities (Prevention) Amendment Act of 2019)."