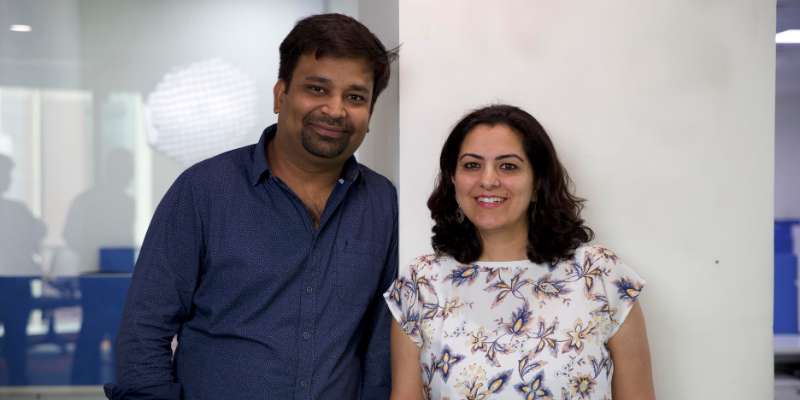 This IITian couple's startup is leveraging ML to enhance customer experience
26th August 2019 05:22 am
Your Story

A customer is the most crucial for any business enterprise. Today, with the evolution of the digital economy, a number of things have changed for the end customer – from buying grocery online to availing loans.
Realising there were processes that can be automated to a great extent to enhance the customer experience, IITian couple Manish Gupta and Rashi Gupta started Rezo.ai in 2017.
Manish Gupta and Rashi Gupta
The Noida-based startup uses machine learning and NLP to automate enterprise workflows with limited human intervention. It also enables automatic conversational responses to customers.
Today, Rezo.ai has Delhivery, CarDekho, and clothing brand W among its clientele.
The beginnings
Manish and his wife Rashi Gupta are IIT Delhi graduates with a masters in Mathematics and Computing.
The couple was working with the corresponding customer experience departments and realised there were many processes that can be automated to help customers. Manish is also a serial entrepreneur who previously founded companies like Cellz and CorrZ in Noida.
With Rashi having a PhD in NLP and machine learning and Manish's experience as a product manager and serial entrepreneur, the couple decided to take the startup flight. The couple bootstrapped the company with an initial investment of Rs 50 lakh. Today, Rezo.ai team has 10 employees.
Conversational AI: the customers' new best friend
Onboarding customers
Rezo's training model operates with brands that already have a history of conversations ready, and also the ones that don't have any customer support chat history.
The startup operates on a custom model where the pricing is case-dependent. The amount a brand has to pay depends on the volume of the conversations. Manish says it is a heavily discounted model without having to worry about the spike in the volume.
Speaking about how he went about on-boarding some initial customers, Manish says, "With all the financials agreed upon, we told them we won't charge them until they are convinced with our pilot."