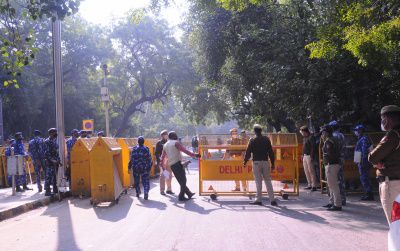 Braving tear-gas shells, farmers close to Delhi
26th November 2020 06:26 pm
Shillong Times

CHANDIGARH: Tens of thousands of farmers on Thursday practically rose up in arms as they braved tear-gas shells and water cannons, managed to break police barricades at several places in Haryana while heading to the national capital to lodge their protest over the Centre's farm laws.
Several protesters and policemen were injured.
The farmers broke barricades and threw them down the bridge ahead of the Punjab-Haryana border in Shambhu near Ambala.
According to official estimates, there are over 50,000 farmers heading towards Delhi.
Bracing overnight rains and chilly winds, thousands of protesting farmers assembled at various places along the Haryana-Punjab borders amid mounting tension.