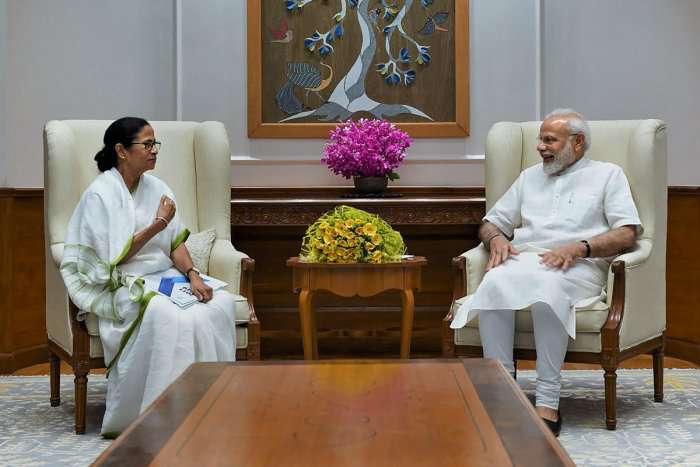 Mamata's 'courtesy meeting' with Modi fuels speculation
19th September 2019 08:05 am
Deccan Herald

Anirban Bhaumik,
West Bengal Chief Minister Mamata Banerjee met Prime Minister Narendra Modi in New Delhi on Wednesday, fuelling speculation that the beleaguered leader was keen to warm up to the top brass of the Bharatiya Janata Party (BJP), although it emerged as the principal challenger to the Trinamool Congress (TMC).
She gifted Modi a 'kurta' and a pack of sweets that she brought all the way from Kolkata for Prime Minister, who turned 69 on Tuesday. She told journalists that her meeting with Modi was an engagement between the governments in the state and the Centre and had nothing to do with politics.
Mamata also said she might have a 'courtesy meeting' with Home Minister Amit Shah on Thursday.
Though she has been a firebrand critic of Modi-Shah dispensation in New Delhi and her party is struggling to stall the BJP's foray into West Bengal, the TMC supremo arrived in New Delhi on Tuesday to reach out to Prime Minister and union Home Minister. She also invited Modi to visit West Bengal after the forthcoming Durga Puja festival and join her to inaugurate a coal project at Birbhum district in the state.