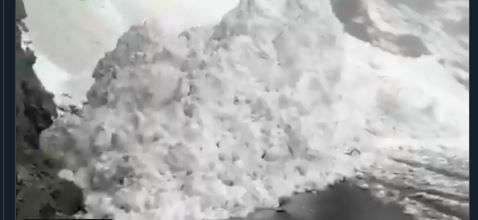 Glacier wall breaks and slides on to highway. Watch chilling viral video
14th January 2020 06:50 pm
India TV

The glacier was reportedly 10 feet high.
A dramatic video of a scene of an avalanche is going viral, and it is the scariest thing you will come across today. The video was shot at Tinku Nallah near Pooh, Himachal Pradesh and was shared on Twitter by Indian Revenue Services officer Naveed Trumboo.
The video begins by showing a huge chunk of glacier breaking apart and moving down a road.
Sounds of "go back, go back" can be heard as a few tourists, who were recording the scene on their phones, begin to run.
"Ever seen the force of a moving glacier in real-time?