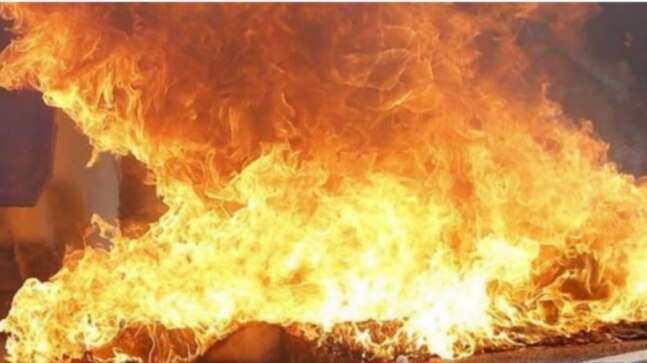 Top hospitals playing with fire in Delhi
26th August 2019 03:16 am
India Today

No lesson from AIIMS! Most of Capital's 1,478 healthcare facilities, including prominent govt hospitals, aren't equipped to battle blaze.
A major fire engulfed five floors of an AIIMS building about a week ago, destroying samples, reports and equipment, besides triggering widespread panic and chaos as Emergency patients were evacuated through dark plumes of smoke.
It took several hours for about three dozen fire engines to bring the situation under control. Fire department officials later pointed to multiple safety-norm violations. The Delhi Police's Crime Branch lodged a case and started its investigation into lapses.
While India's premier health facility is still smarting from the August 17 blaze, a Mail Today reality check has shown that many other top Delhi hospitals might well be awaiting similar disasters. These hospitals are operating without the fire department's no-objection certificates (NOCs). Obtaining and renewal of NOCs ensure periodic checks, rectification of flaws in fire-safety systems and availability of adequate equipment.
Sometimes, the fire department doesn't issue NOCs because inspections reveal that buildings aren't meeting its safety standards -- both structural and equipment-related. Either way, operations without NOCs may spell catastrophic consequences. A scrutiny by the fire department, done after the AIIMS incident, has revealed that many Delhi hospitals don't have wide enough passages for fire engines to move due to encroachment. Hydrants were found in most premises, but they could be inaccessible in case of an emergency.
LOK NAYAK JAI PRAKASH NARAYAN (LNJP) HOSPITAL
The casualty building of the prominent hospital near Delhi Gate is functioning without an NOC, a fire department report reveals. Though bustling with patients, the hospital has a narrow emergency exit, the reality check shows. Other loopholes include faulty arrangements regarding water hosepipes and fire hydrants. There is no designated refuge area.
LNJP Medical Supreinrendant Dr Kishore Singh said, We have held a meeting on fire-safety issues. A drill has been conducted to train the staff for emergencies. We have asked fire department officials to do an audit and PWD officials to check equipment and correct our systems wherever required.
DR. RAM MANOHAR LOHIA (RML) HOSPITAL
Situated near Connaught Place, RML Hospital has 1,400 beds and caters to a huge number of patients. Its trauma centre has safety shortcomings, says the fire department. The staircase meant to be used to access fire exits is crammed with unused beds, the reality check reveals.
RML spokesperson Smriti Tiwari, however, said the hospital is following all fire-safety norms. After the AIIMS incident, we have done a check that found no loopholes. However, some renovation work is going on and we are working on issues as they come to notice, she said.
LADY HARDINGE HOSPITAL & MEDICAL COLLEGE
The hospital near Connaught Place has over 1,000 beds in its two units. A separate outpatient block also caters to patients. According to the fire department, its Payment Ward and UG Hostel don't not have NOCs.