Turkey launches assault in Northern Syria; President Erdogan announces start of "Operation Peace Spring"
09th October 2019 08:32 pm
The Free Press Journal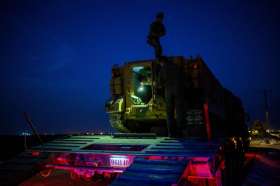 Turkish soldiers prepare an armored vehicle as Turkish armed forces drive towards the border with Syria near Akcakale in Sanliurfa province.
Ras Al-Ain: Turkey launched an assault on Kurdish positions in northern Syria on Wednesday with air strikes and explosions reported near the border.
President Recep Tayyip Erdogan announced the start of the attack on Twitter, labelling it "Operation Peace Spring".