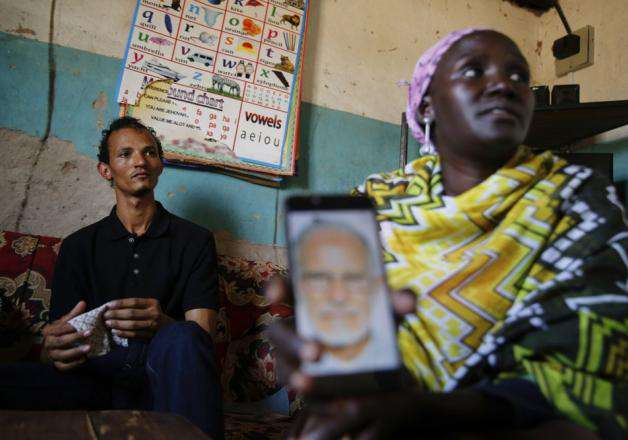 30-year scandal: Did Italian priest father a Kenyan boy?
09th October 2019 04:58 pm
India TV

When Sabina Losirkale went into labour, her sister Scolastica recalls, priests and religious sisters filled the delivery ward waiting to see the colour of the baby's skin — and if their worst fears had come to pass.
The priest - who to this day denies paternity - was transferred, and a Kenyan man was found for Sabina to marry. He would be listed as the father on the boy's birth certificate.
The church's efforts to conceal what is alleged to have happened here would stretch over three decades - a testament to the extraordinary ways in which church officials have dealt with accusations that priests in the developing world have had sex with girls and young women. Here, the Catholic Church's sexual abuse crisis is just beginning to force a reckoning.
The boy who was born to Sabina Losirkale on that day in 1989 has been an outcast of sorts for all of his life. Tall and light-skinned, with wavy hair, Gerald Erebon, now 30, looks nothing like the dark-skinned Kenyan man who he was told was his father, or like his black mother and siblings.
"According to my birth certificate, it is like I am living a wrong life, a lie," he said. "I just want to have my identity, my history."
Amid the torrent of sex abuse accusations that have rocked the priesthood, little attention has been paid to the pregnancies resulting from those illicit acts. And nowhere is this a more glaring issue than in Africa.
While there are no official statistics, experts point to a "culture of silence and compromise" that has allowed abuses of all kinds to fester in African society, said Augusta Muthigani, in charge of education for the Kenyan bishops' conference.
"Matters of sexuality are not discussed openly," she said.
The continent has long lagged behind the United States, Europe and Australia in confronting the problem of priests having sex with children, given the church's priorities here have focused on fighting poverty, conflict and traffickers who sell children off to war or work.
Recently, East African bishops established regional child protection standards and guidelines to prevent child sexual abuse. And in parts of Francophone West Africa, the Catholic Church has launched safeguarding programs for society at large.
Those initiatives, though, are relatively new, scattershot and underfunded. And eight months after Pope Francis summoned bishops from around the world for a summit to insist that clergy sexual abuse prevention be a priority for the universal church going forward, African bishops made no mention of it in their final declaration after a continent-wide assembly in July. All in a region where advocates say Catholic clergy routinely violate their vows of celibacy, including with children.
The Rev. Mario Lacchin encountered Sabina Losirkale when she was a student at the Gir Gir Primary School in Archer's Post, a dusty town on the highway to Ethiopia. The school was established by the Consolata Missionaries religious order, which had come to Archer's Post to spread the faith to the semi-nomadic tribes of Kenya's northern Rift Valley.
Growing up in the 1970s and '80s, the Losirkale girls and two cousins were often left on their own; their parents were poor shepherds and spent days away from home, seeking pasture in the bush for their animals.
Starting about a year before she turned 16, Sabina skipped afterschool sports to go to the priests' quarters to do housework, cooking and cleaning for the parish priests. Scolastica recalls she would sometimes see Sabina and Lacchin hugging as they said goodbye.
Other times, Scolastica said, Sabina would come home from Lacchin's house crying and asking for Scolastica to fetch water so she could bathe. Some nights she didn't come home at all.
At the time, the priest was in his early 50s.
"I think Father Mario was taking advantage of my sister," said the 45-year-old widow, looking through family photos in her one-bedroom, mud-brick home. "He bribed her with gifts, food, clothes. He was even buying us books. My sister used to come with books, pens, all we needed."
One night, Sabina vomited. It was the first indication that she was pregnant.
Their parents were shocked and angry. They demanded to know who the father was.
Lacchin was quietly transferred to a nearby mission; his driver and a catechist at Archer's Post, Benjamin Ekwam, was chosen to marry Sabina.
Nevertheless, people talked.
"You know, it was very shameful in the community," Scolastica said. "If someone wanted a child, a girl, they just married. So this was just an embarrassment to the whole community."
Sabina was just 16 when she gave birth March 12, 1989. She had conceived a few weeks after her 16th birthday. In Kenya, the legal age of consent was and is 18.
The Vatican doesn't publish statistics about the number of priests who have fathered children. The Holy See only publicly admitted that it's a problem this year, and only then because it was compelled to acknowledge that it had crafted internal guidelines to deal with it.
The man behind the disclosure was Vincent Doyle, an Irish psychotherapist and son of a priest who in 2014 launched an online resource, Coping International, to help children of priests.
Doyle has been a thorn in the side of the Vatican ever since, seeking to raise awareness through the media about the plight of these children, who often suffer emotionally and psychologically. He has also begun advocating for their mothers, some of whom were just girls when they conceived.
In recent months, he has forwarded three such cases to the Vatican: those of Erebon and of children born of a 17-year-old in Cameroon and a 15-year-old in the United Kingdom.
All told, Doyle believes priests' children number in the thousands, given the 415,000 Catholic clergy alive today and church teaching that forbids artificial contraception and abortion. Doyle estimates that about 5% of these births are the result of sex between a priest and a minor, though he has only anecdotal evidence.
The Rev. Stephane Joulain, a leading expert in clergy sex abuse prevention in Africa, said the majority of cases of sexual abuse of minors in Africa involve foreign missionary priests. But he said there is a significant problem of local African priests fathering children, including to young mothers, because of cultural norms: "You become a man only when you have fathered children."
Many priests cite this pressure from family or tribe to explain why they have had offspring. Other priests, Joulain said, rationalize their behavior by saying celibacy is an imported "Western" tradition that has no place in Africa, where girls are often considered adult once they reach puberty, irrespective of the law.
The flouting of celibacy vows among African clergy is no secret to the Vatican. Nearly every time a group of African bishops visited the Vatican during the papacy of Pope Benedict XVI, he would remind them of the need to train their priests to "embrace the gift of celibacy," a reminder not often given to other bishops' conferences, according to a review of his speeches to more than a dozen African bishops' conferences.