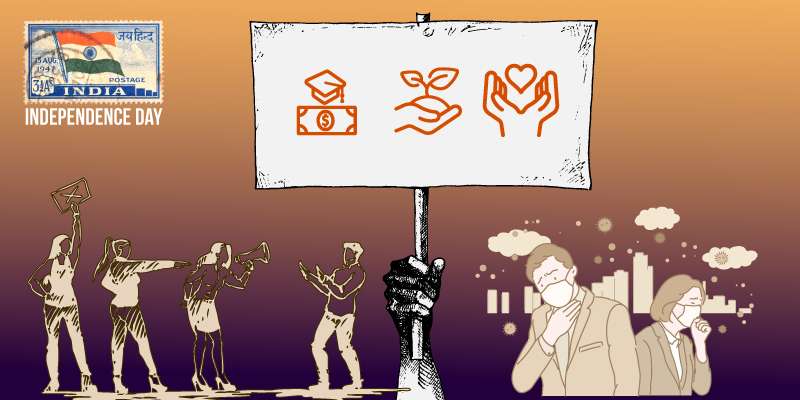 This Independence Day, a look at how the govt and enterprises are working towards gaining freedom from social ills
15th August 2019 07:06 am
Your Story

The essence of words like 'freedom' and 'independence' can be tricky and largely subjective. India gained independence from the British colonial rule a good 72 years back and went on to build a strong and democratic country thereon.
Albeit the great victory after over 90 years of struggle, today, India still has to contend with a few challenges from the bottom all the way to the top. When addressed collectively as a society, the resulting scenario can give the citizens both happiness and a better quality of life.
Low agricultural productivity, lack of healthcare facilities, inaccessibility to good education, environmental degradation, and compromised women safety are some of the issues that have been coming in the way of people's liberation.
This Independence Day, let's reflect on some social barriers that we need to break as a nation in order to obtain the real taste of independence.
Beyond Angel Tax, what does freedom truly mean for Indian startups?
Freedom from illiteracy
India has come a long way in terms of educating its citizens and ensuring access to education with a mere 18.32 percent in 1951 to 74.04 percent in 2011.
The 2011 census reveals that Gross Enrolment Ratio (GER) for females at the primary level stood at 100.6 against 98.1 for males in 2013-14. On the contrary, dropout rates were 18.30 and 21.20 percent in the Classes I to V, 32.90 and 39.20 percent in Classes I to VIII, for females and males, respectively.
Image credit: Shutterstock
How Haryana transformed dismal student learning outcomes in its government schools
The Government of India, along with educational institutes and other organisations, has been trying to bridge this gap in inequity, and educate more and more people.
One such non-profit organisation (NGO) is Maatram, which is working tirelessly to make education more accessible. Founded in 2013 by Sujith Kumar and Punitha Anthony, it has helped around 677 underprivileged children get access to higher education for free.
Though there is still a lot to be done in India's educational space, the efforts put in by various parties contributed to the total enrolment of female students increasing by five percent on an annual basis with an estimate that by 2030, women pursuing higher studies might turn out to be more than men.
After all, empowering citizens is one of the most valuable assets, and what better way to do this than give away educational opportunities?
Freedom from sexual violence
One of the gravest concerns that the country is grappling with right now is perhaps the extent of sexual violence inflicted on women and children. India is known to be the most unsafe country for women in the world.
However, in 2018, all the citizens expressed these woes and raised their voice against the perpetrators through the #MeToo movement. A number of personalities, including veteran actors Alok Nath and Nana Patekar, comedians like Tanmay Bhatt and Gursimran Khamba, were named in the process. Social media was rife with allegations for several days.
Image credit: Shutterstock
Following this, the Criminal Law Amendment Bill of 2013 was passed and an anti-rape law called the Nirbhaya Act was tabled. The National Commission for Women set up a separate cell to handle complaints of sexual harassment at workplace in 2018.
Startups like Sexual Harassment Law Compliance (SHLC) works with corporate houses and universities to help sensitise the management and staff to sexual harassment at the workplace.
While the government and others are helping ease the situation, it is in the hands of citizens to change mindsets so that India can be a country that is free from fear of gendered violence.
Supreme Court stresses on women safety, bats for stricter punishment
Freedom from agricultural distress
For over 70 years, Indian farmers have been toiling hard to produce bumper harvests. However, the sector has seen slow progress in recent years, and farmers have hardly got any freedom from the distress. Low farm incomes, crop failures, poor employment rates, and increased incidences of farmer suicides point to a multidimensional problem.
For instance, the Deshpande Foundation launched the Neer Sinchina programme in the same year with support from the Tata Trusts to help facilitate irrigation in drought-prone areas across Northern Karnataka.
Image credit: Shutterstock
Modi govt extends PM-KISAN, announces new pension scheme to farmers