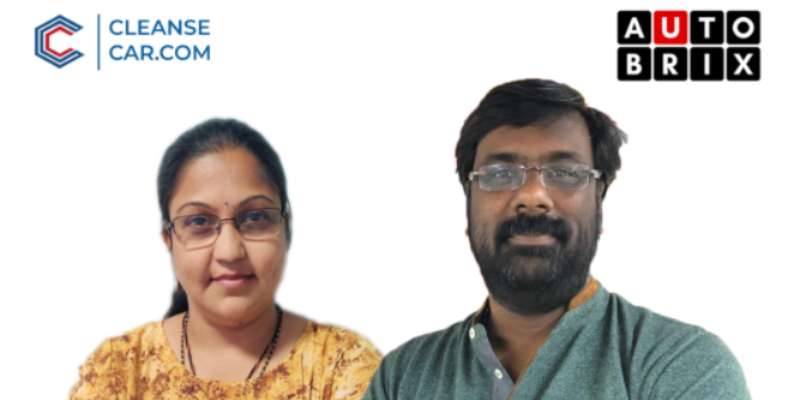 [Funding alert] Vehicle services startup CleanseCar raises pre-Series A funding of $2M
09th October 2019 07:22 pm
Your Story

CleanseCar a startup in the vehicle services space, has raised $2 million. Currently operating in Bengaluru, Chennai, Hyderabad, Mumbai, Pune, Delhi, and Gurgaon, with 20,000-plus monthly subscribers, the startup looks to expand its business in these cities.
The investors who participated in the round were Haldiram's Family Office, (Vevek Ventures Investments Pvt Ltd), Dr. Apoorv Ranjan Sharma (Founder, Venture Catalysts), Dhianu Das (Alfa Ventures), Karan Kumar (Founder, Amalthea Capital), Rahul Bothra (CFO, Swiggy), Mitesh Shah (Co-founder, IP Ventures), Lalit Agarwal (Head of Venture Capital at a Sovereign Wealth Fund), Bobby Reddy (Indus Ventures), Sagar Agarwal (ex-MD, Evolvence India Fund), and Nandi Vardhan Mehta (Head of Finance, KAAF Family Investments Office).
Kalyandhar Vinukonda and Pratibha Shalini, Co-founder, CleanseCar
[Funding alert] Fintech company Sub-K raises Rs 75 Cr from Denmark's Maj Invest
Founded in January 2018 by Kalyandhar Vinukonda and Pratibha Shalini, CleanseCar offers daily car wash, on-demand bike service, and roadside assistance for cars.
Speaking on the funding received, Kalyandhar said,