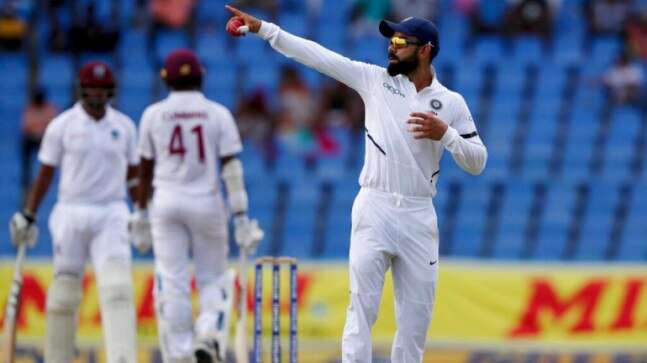 Captaincy just a responsibility I am fulfilling: Virat Kohli on equalling MS Dhoni's record in Antigua Test
26th August 2019 02:34 am
India Today

India captain Virat Kohli was a satisfied man after his team completed its biggest win overseas in terms of runs as they beat the West Indies by 318 runs on Day 4 of the first Test in North Sound, Antigua on Sunday.
India beat the Windies by 318 runs on Day 4 to take an unbeatable 1-0 lead in the two-match series and begin their ICC World Test Championship campaign in style. It was also India's fourth biggest win (in terms of runs) in Test cricket overall.
The victory saw Virat Kohli equal MS Dhoni's record of 27 Test wins, making him the joint-most successful captain for India in Test cricket.
Kohli also went past Ganguly with the most Test wins in overseas matches for India as captain. Kohli now has 12 away wins as India's Test skipper in 26 matches, Ganguly had 11 victories in 28 games.
The 30-year-old though, played down the records and credited the team for all the achievements.
"It's a responsibility that I'm fulfilling. It's a blessing that I am in a position to contribute to my team in more than one way. Nothing is possible without the team. I am taking the decisions but it is up to the individuals to do the execution," Kohli said at the post-match presentation after being reminded of the records he achieved as captain in this Test.
Kohli then lauded the efforts of his fast bowlers Jasprit Bumrah and Ishant Sharma before heaping praise on his deputy Ajinkya Rahane, who scored his 10th Test hundred in India's second innings. Kohli also spoke about the team selection for this Test match and explained why Hanuma Vihari got the nod ahead of Rohit Sharma in this game.