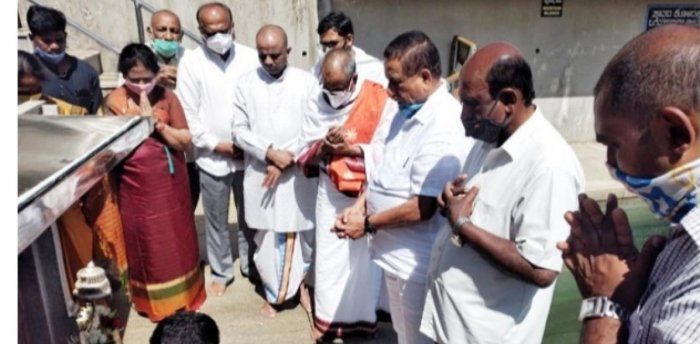 Agama scholars visit Talacauvery
21st November 2020 11:40 pm
Deccan Herald

DHNS,
Scholars well versed in 'Agama Shastra' visited Talacauvery on Saturday to find a solution to the problem related to the damaged Shivalinga at the kshetra.
The state government had sent the scholars to Talacauvery, on the request by MLC Veena Achaiah.
After offering special prayers to Cauvery, the scholars inspected the damaged Shivalinga.
They later held discussions with Virajpet MLA K G Bopaiah, MLC Veena Achaiah and Bhagamandala-Talacauvery temple chairman B S Thammaiah.
Speaking on the occasion, MLC Veena Achaiah said that there was confusion on whether the damaged Shivalinga should be immersed in the sea or not.